Professional Hydroseeding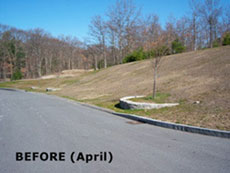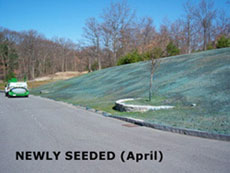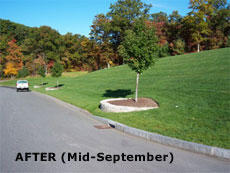 We provide superior results with our hydroseeding. We use the highest quality products and only certified seed. Our hydroseeded lawns grow in faster and thicker, reduce erosion, and require less water. The thick blue-green mix holds the seed in direct contact with the agents that stimulate germination; water, fertilizers, and recycled newspaper mulch. We have the process down to a science and provide the best results possible.
You will be given watering and care instructions to optimize the results. What then sets us apart is that we are NOT finished at this point. That's right, you aren't on your own. We are in this for the long term results. During the first few growing seasons a new lawn needs attention to help it establish properly. We leave our customers with a lawn...not just some grass.
We return monthly for scheduled fertilizations and lawn check-ups, then in August we complete our double renovation process by aerating and overseeding the lawn to stimulate deep root growth, repair summer stress, and to thicken the lawn choking out remaining weeds.
If your lawn needs additional prep work done prior to seeding we'll perform this properly for you. Depending on conditions we can install new loam where needed or simply aerate your existing lawn.
Contact us today to receive a free estimate.