Top Dressing with Compost
If your soil isn't optimal we may recommend top dressing. This is where we aerate the lawn, then spread a consistent layer of premium composted cow manure over the lawn area. We can set the depth to be anywhere from 1/16th of an inch up to a half inch depending upon the needs of your lawn.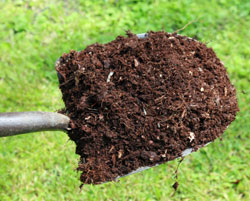 The benefits of this process cannot be overstressed. It's why golf courses topdress regularly.
It allows us to add beautiful organic materials back into your soil. This improves nutrient levels, increases water retention to alleviate drought stress, and will regulate future compaction issues from returning.
When we finish topdressing we overseed very heavily to thicken the lawn. We get amazing results because of the optimal soil to seed contact at this time. In very bad cases we can even hydroseed afterwards for thicker results.
Compost application also improves the soil quality and reduces the soil compaction.
Contact us today to receive a free estimate.