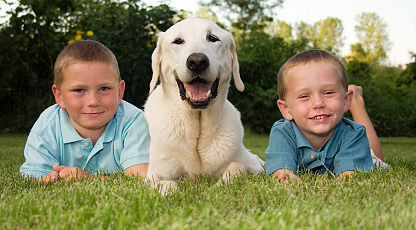 Maintaining the health and beauty of your lawn adds to the monetary value of your home, but also to your enjoyment of your yard and home. That said, many of us are now skeptical and hesitant to apply large amounts of chemicals where we live and our children and pets play. We were one of the first companies to offer organic lawn care in this area over 15 years ago and have continued to provide a safe alternative.
Although organic lawn care may have some limitations in many ways, it is superior in it's results. Organic fertilizers build up in the soil and improve the overall soil composition. This helps retain moisture, encourages microbial life and stimulates the growth of deeper roots. Traditional chemical fertilizers, such as those used by many competitor and sold at box store for the do-it-yourselfers, provide a quick jolt of nitrogen to green up the grass but the salts used also deplete the soil. This leads to dryer soil and stunted roots. It's no wonder that their lawns burn out each summer.
Organic lawn care has come a long way in the past 15 years. We have helped develop and test products many of which we have implemented into our Organic Fertilization Program. We can offer excellent weed control for broadleaf weeds by adding Organic Weed Treatments using Fiesta. Our Organic Grub Control uses Grandevo which is a bioinsecticide and provides excellent results. Corn Gluten Meal provides a pre-emergent effect while also delivering a potent early spring organic fertilizer. All of this coupled with our excellent organic fertilizers and maintaining proper pH levels by applying limestone as needed deliver excellent results and allow our customers to keep on their lawns all year long.