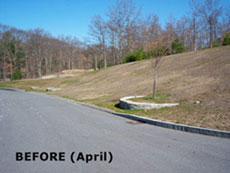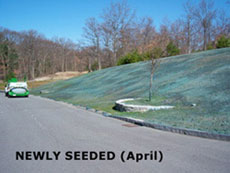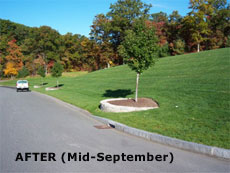 Hydroseeding is an excellent method for the installation of a new lawn. Hydroseed consists of a mixture of water, grass seed, fertilizer, tactifiers, and wood or paper mulch. In most cases, the mulch is paper and derived from chopped up recycled newspapers. The mixture is sprayed out onto a prepped lawn area, preferably on nicely graded screened loam. However, we also hydroseed on damaged lawns that we prep by aerating aggressively.
When mixed and applied properly the hydroseed serves to keep the seed moist and in direct contact with agents that stimulate proper germination, such as the fertilizer water and the soil itself. It is a lot like starting a bean seed in a damp paper towel, a science project that we all did many times in elementary school.
There are other benefits to hydroseeding; It delivers the seed across the lawn in a uniform blanket. The seed is then better held in place and in contact with the soil by the mixture and in many cases the addition of tactifiers in the mix. Tactifiers also prevent a lot of washing away and pooling of the seed when it rains, although there is a limit to anything. When installing a lawn it is important that the seed stay moist, so the mulch plays an important part in reducing the amount of watering needed by about ½.
Because of the tactifiers and the water saving capabilities of the mulch hydroseeding can be done successfully earlier in the spring, later in the fall, and even successful through the summer when irrigation is provided. We vary the seed that we use based upon our client's needs and desires, all of our seed however is certified and does not contain weed seed. Many of our competitors here in New England add annual ryegrass seed into their mix to speed up germination. We view this as a weed and never add it into our mix as it is ugly, grows very fast each week, and it dies after one year leaving the customer with little more than they started with. We use perennial seed and look to establish a long-term happy relationship with our clients.