Organic Mosquito & Tick Control
5 Applications per year are scheduled of our Organic sprays applied monthly from April to October (we use a dilution of Garlic Juice, Rosemary Oil, Peppermint Oil, Geraniol Oil, Wintergreen Oil, and Vanilla). These applications are completely safe and have proven very effective for our over 1,000 customers who are on this program and regularly refer friends and family.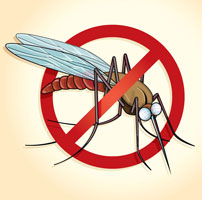 Mosquitoes can make it hard to enjoy your backyard.
Not only are they a nuisance, but diseases like EEE make them a health risk to you and your family.
We can help reclaim your property! Our garlic juice spray drastically reduces mosquitoes in 3 ways:
Kills Existing Mosquitoes
Repels Active Mosquitoes
Smothers Larvae
*If you have already noticed a lot of mosquitos or ticks on your property, we can also schedule an initial spray of an insecticide to reduce the insect population quickly. Many of our customers who want optimal control use the organic mosquito & tick program and supplement 2 or 3 additional insecticide applications per year.
Ticks & Lyme Disease Prevention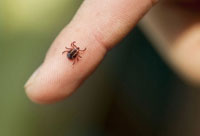 To protect your family from contracting Lyme disease, it's important to keep populations of ticks under control.
Ticks are blood sucking parasites that can transmit several diseases to humans, especially Lyme disease. Lyme disease is reaching near epidemic levels here in New England with often devastating consequences. There are tens of thousands of confirmed cases each year and according to the CDC over 220,000 cases still go unreported or misdiagnosed each year.
Our organic mosquito & tick sprays are proven to repel ticks from treated areas, which is a big step toward reducing populations over time. A mild insecticide should also be used 1-3 times per year in many cases to further keep your family safe.
Deer ticks contract Lyme disease by feeding on white-footed mice, not deer. We offer another strategy for targeting these infected ticks especially; biodegradable cardboard tubes filled with permethrin treated cotton are specially placed around the property. Mice collect the cotton for their bedding and the insecticide is released on their fur. The deer ticks that feed on the mice are killed preventing them from spreading Lyme disease.
Contact us today to receive a free estimate.