Professional Hydroseeding Services in MA & RI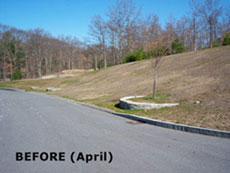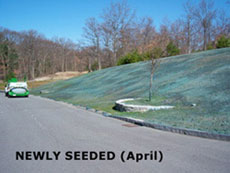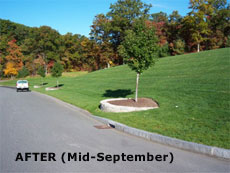 Hydroseeding has long been proven to be the very best way to install a new lawn and we have done over 2,500 hydroseeding jobs. Our experience and knowhow will get you the lawn you've always wanted or help you reclaim the lawn you once had!
We provide superior results with our hydroseeding services. We use the highest quality products and only certified seed. Our hydroseeded lawns in Massachusetts & Rhode Island grow in faster and thicker, reduce erosion, and require less water. The thick blue-green mix holds the seed in direct contact with the agents that stimulate germination; water, fertilizers, and recycled newspaper mulch. We have the process down to a science and provide the best results possible.
You will be given watering and care instructions to optimize the results. What then sets us apart is that we are NOT finished at this point. That's right, you aren't on your own. We are in this for the long term results. During the first few growing seasons a new lawn needs attention to help it establish properly. We leave our customers with a lawn...not just some grass.
We return monthly for scheduled fertilizations and lawn check-ups, then in August we complete our double renovation process by aerating and overseeding the lawn to stimulate deep root growth, repair summer stress, and to thicken the lawn choking out remaining weeds.
Hydroseeding is an excellent method for the installation of a new lawn. Hydroseed consists of a mixture of water, grass seed, fertilizer, tactifiers, and wood or paper mulch. In most cases, the mulch is paper and derived from chopped up recycled newspapers. The mixture is sprayed out onto a prepped lawn area, preferably on nicely graded screened loam. However, we also hydroseed on damaged lawns that we prep by aerating aggressively.
When mixed and applied properly the hydroseed serves to keep the seed moist and in direct contact with agents that stimulate proper germination, such as the fertilizer water and the soil itself. It is a lot like starting a bean seed in a damp paper towel, a science project that we all did many times in elementary school.
There are other benefits to hydroseeding; It delivers the seed across the lawn in a uniform blanket. The seed is then better held in place and in contact with the soil by the mixture and in many cases the addition of tactifiers in the mix. Tactifiers also prevent a lot of washing away and pooling of the seed when it rains, although there is a limit to anything. When installing a lawn it is important that the seed stay moist, so the mulch plays an important part in reducing the amount of watering needed by about ½.
Because of the tactifiers and the water saving capabilities of the mulch hydroseeding can be done successfully earlier in the spring, later in the fall, and even successful through the summer when irrigation is provided. We vary the seed that we use based upon our client's needs and desires, all of our seed however is certified and does not contain weed seed. Many of our competitors here in New England add annual ryegrass seed into their mix to speed up germination. We view this as a weed and never add it into our mix as it is ugly, grows very fast each week, and it dies after one year leaving the customer with little more than they started with. We use perennial seed and look to establish a long-term happy relationship with our clients.

Get free lawn care tips on how to improve your lawn.