Organic Mosquito & Tick Control Services - Massachusetts & Rhode Island
Lyme disease is reaching near epidemic levels here in New England, often with devastating and long-lasting consequences. According to the CDC, around 300,000 cases of Lyme are confirmed each year in the U.S. and the majority are here in the Northeast. Symptoms are no joke and include: fever, rash, severe headaches, neck stiffness, facial palsy, paralysis, heart palpitations, arthritis with severe joint pain and swelling, chronic pain, dizziness, shortness of breath, inflammation of the brain and spinal cord, nerve pain, shooting pains, numbness or tingling in hands or feet, and problems with short-term memory. You should be proactive to reduce ticks on your property!
Ticks & Lyme Disease Prevention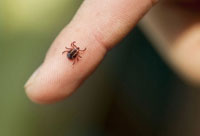 To protect your family from contracting Lyme disease, it's important to keep populations of ticks under control.
Ticks actually transmit 11 different diseases to humans with new illnesses being discovered each year.
Our organic mosquito & tick sprays are proven to kill on contact and then repel from treated areas for 3-4 weeks, which is a big step toward reducing populations over time.
A mild insecticide should also be used 1-4 times per year to further keep your family safe. The CDC also recommends that this be done every spring if you plan to use your yard. Tick populations have been so bad and Lyme Disease rates so high lately that many customers' yards and our own homes have this insecticide applied multiple times per year. We use a very safe product for these applications; a pyrethroid called Bifenthrin, it is a very effective product and will kill virtually all of the ticks on your property. You will need to remain off of the area for 24 hours to allow it to dry, after which time your yard is safe for your family and your pets to enjoy.
We have several service options to help manage these pests, making your property more enjoyable and safe for your family and pets. Many of these options are described below.
Organic Mosquito & Tick Control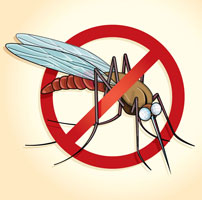 This program consists of 6 monthly applications scheduled from spring to fall. These organic sprays consist of Cedar Wood Oil and a blend of organic botanical oils. The sprays kill mosquitoes and ticks on contact and serve to repel biting insects for up to four weeks. These applications are completely safe and do not require that you keep off of your lawn afterwards. This program provides results that are consistently excellent for our 2,000+ customers that receive these safe sprays each month, they regularly refer their friends and family.
Reduce Mosquitoes in your Yard
Help reduce the number of mosquitoes in outdoor areas where you work or play by draining sources of standing water. This reduces the number of places mosquitoes can lay their eggs and breed.
At least once a week, empty water from flower pots, pet food and water dishes, birdbaths, swimming pool covers, buckets, barrels, and cans
Check for clogged rain gutters and clean them out
Remove discarded tires and other items that could collect water
Be sure to check for containers or trash in places that may be hard to see, such as under bushes or under your home
Tick & Mosquito Control (insecticide)
For added protection, many customers incorporate between 1-4 applications of our Tick & Mosquito Insecticide throughout the year, which dramatically reduce insect and tick levels. This approach is strongly recommended by the CDC to keep your property safe from ticks and reduce the risk of contracting Lyme Disease. The spring application is critical, as roughly 80% of Lyme cases are contracted in late spring and early summer each year due to the life cycle of the deer tick. Additional treatments are recommended based upon your property's conditions and your level of desired control. The insecticide that we use, a pyrethroid called Bifenthrin, is extremely effective, yet minimizes exposure risk. You will only need to keep off of the lawn for 24 hours, after which time you can resume enjoying your property with confidence that the tick population has been controlled.
Tick Tubes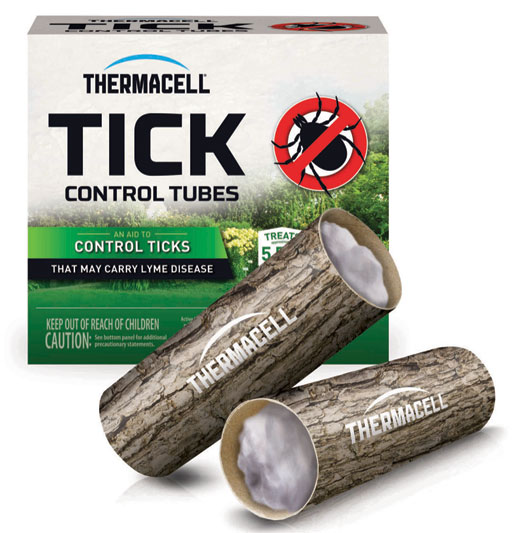 Deer ticks contract Lyme disease by feeding on white-footed mice, not deer. This remarkable Lyme disease-preventing solution consists of placing small tubes filled with cotton balls. The cotton is treated with the mild insecticide Permethrin. We place the Tick Tubes in areas around your yard where mice frolic. That's it. Mice will do the rest for you by gathering the cotton to build nests in their burrows. Young ticks feeding on the mice are killed by the insecticide before they can spread Lyme Disease to you, your family, or your pets. Every mouse that uses Tick Tubes to create nests can kill hundreds of ticks each season. Studies have shown that Tick Tubes actually reduce the risk of exposure to an infected tick by up to 97%! We place the tubes in spring and fall as needed. If you have wooded areas with fallen leaves that are not fully removed near your home, then mice will be active and this product is for you.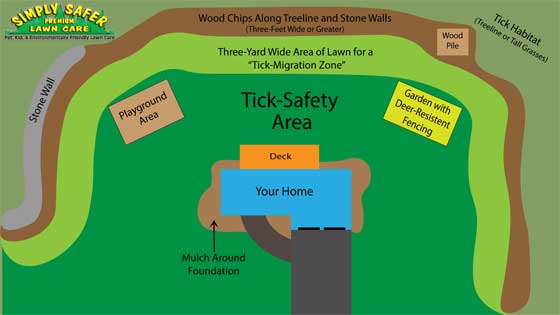 Reduce Ticks on your Property by:
pruning trees
clearing brush
removing litter
keep grasses mowed, and let it dry thoroughly between waterings
Move shubbery and overgrowth farther away from areas frequented by people
Make your property unattractive to animals that are hosts to ticks by:
eliminating birdfeeders, birdbaths, and salt licks
erecting fencing around the property
clearing away woodpiles, garbage, and leaf piles
removing stonewalls that provide homes to wildlife
Have your property chemically treated
We now service over 2,000 lawns on our Organic Mosquito & Tick Control Program. For more information or pricing for our Tick and Mosquito Insecticide Applications, Organic Mosquito & Tick Control Program, or Tick Tubes please call us at 1-866-GO-SAFER (467-2337).