Top Dressing with Compost
The quality and composition of your soil is the most important driving factor in determining the performance of the lawn. Over time your lawn will continue to feed and eat away at the stores of natural nutrient and organic matter in your soil. In order to maintain top results over a long period of time, these natural qualities need to be replaced. Topdressing the lawn with organic composted cow manure restores the natural levels of nutrient and vitality back to the soil. Standard applications are around 1/16" but can be increased based upon the individual needs of the lawn. Enhanced color, moisture retention, and increased disease and stress resistance are among the many benefits to be gained from topdressing. The results can be quite dramatic.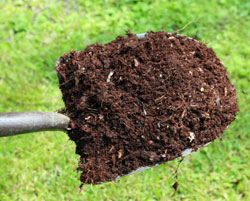 For best results, we recommend having the lawn core aerated prior to the topdressing in order to achieve better incorporation of the compost into the soil. Finally, we finish the process with a heavy overseeding with premium seed. We achieve very high germination rates by seeding when coupled with the aeration and topdressing due to the excellent "seed-to-soil" contact.