Simply Safest ORGANIC Fertilization Program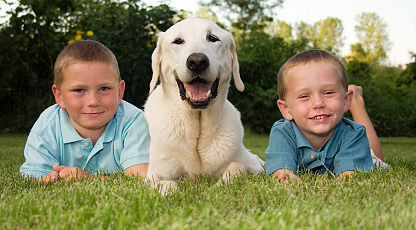 Pet, Kid, and Environmentally Friendly Lawn Care
You can enjoy all of the benefits of a nice green healthy lawn without jeopardizing your family's health or the health of our local environment. This truly is the most pet, kid, and environmentally friendly program available!
Our Organic Program will keep your lawn nice and green, control grub damage, and reduce weeds over time. All of this requires no chemicals, just our know-how and quality organic products being applied at the right time. Our OMRI certified organic fertilizers build up in the soil and encourage microbial activity, literally putting life back into your lawn. Not only are the products we use safe, but many are produced locally, reducing pollution and supporting local jobs. Below is an explaination of each of our Organic Program services.
Another Happy Customer...We had great results last year and truly believe in this company's products and service. Early last year we switched from a large franchise lawn care company to Simply Safer Lawn Care. The results have been dramatic; we couldn't be happier. These folks know their stuff. The people at Simply Safer seem into their jobs and the advice we have received has been right on the money.-Dave S. in Medfield, MA
CORN GLUTEN MEAL
This high protein by-product of the corn-starch and ethanol industries is completely safe; in fact, it's been used for decades as food for livestock and dogs. Corn gluten is a very effective Pre-emergent; it prevents the germination of annual weeds such as crabgrass. It is also naturally very high in Nitrogen and acts as a great first fertilization to get your organic lawn growing, green, and healthy to out-compete weeds and crabgrass.
SPRING LIMESTONE PH CONTROL
Enhanced Limestone with Humic reduces soil acidity and makes more nutrients available, in your soil. This strengthens your turf while naturally weakening and reducing weeds and crabgrass, which prefer acidic soils.
ORGANIC LATE SPRING FERTILIZATION
Our Organic granular fertilizer provides needed nutrients such as nitrogen and potassium to the soil and also has high levels of Iron to maintain a deep green color and add organic material to your soil.
ORGANIC SUMMER COMPOST-TEA FERTILIZATION
Our organic compost-tea fertilizer is essential to keep the lawn healthy during the stresses of summer. If you don't water at all and the lawn does go dormant, this will help it recover more quickly in the fall.
ORGANIC GRUB TREATMENT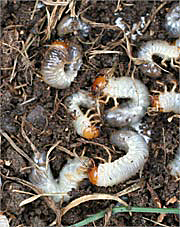 This application of GrandevoPTO is a bioinsecticide that is bacteria-based and proven to control chinch bugs, sod webworms, and several species of grubs.
ORGANIC EARLY FALL FERTILIZATION
Applied in August or September, our organic granular chicken manure fertilizer helps your lawn recover from the stress of summer, green up nicely, and begin the fall season strong.
ORGANIC WINTERIZER FERTILIZER
Our Organic winterizer promotes continued deep root growth throughout the fall and provides the needed nutrients for the grass to store over winter for a quicker spring green-up next year.
ORGANIC LIMESTONE (pH Control)
Desired turf grasses thrive when the soil pH is near neutral while most weeds & crabgrass prefer soil that is acidic. The addition of Solu-Cal limestone to the soil raises the pH, countering the acidic effect of annual rainfall and the effects from surrounding acidic trees. If the soil were to remain acidic, the grass will not absorb nutrients optimally and will thin out, allowing weeds & crabgrass to thrive and take over. All lawns need this done annually; some lawns will require multiple applications each year.
ORGANIC WEED CONTROL
We offer and encourage the addition of this service to your Organic Program. This completely safe product is very effective as a selective, broadleaf weed killer that leaves turf healthy and weed-free using a specially formulated iron chelate solution. Fiesta® works quickly, delivering visible same-day results, even in cool weather. We can spot treat to kill dozens of weeds that previously were not able to be controlled with organics such as clover, dandelions, plantain, chickweed, thistle, moss, and many more. Learn about our organic weed control program.
AERATION & OVERSEEDING
Aerating and overseeding the lawn is a critical step in maintaining an organic lawn. It gives us a needed unfair advantage in fighting weeds, crabgrass, and insects without chemicals. If done regularly in the fall we'll repair stressed or thin areas to naturally keep weeds & crabgrass choked out.
View information on some of the Safe Lawn Care Products we use.