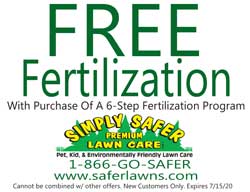 Receive a Free Lawn Fertilization with the purchase of our 6 step Organic-Based Lawn Program.
New customers only, not to be combined with other offers.

Original Organic-Based Lawn Fertilization Program
Pet, Kid, and Environmentally Friendly Lawn Care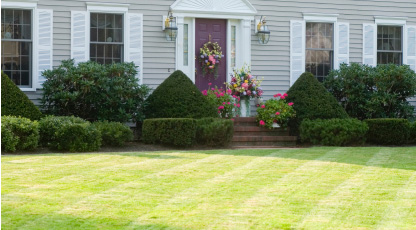 Optimal Results with 90% Less Pesticides
Simply Safer's Organic-Based Program keeps your lawn looking beautiful and green and provides optimal control of weeds and insect pests while reducing pesticide use by up to 90%. We reduce the need for pesticides by using only the best fertilizers and focusing on vital pH control to keep the turf as strong as possible. Stronger lawns not only have fewer issues, but also look much better. Again we reduce pesticide usage by spot-treating for weeds & insects as needed. Our lawn programs build a healthier, stronger lawn which not only looks better, but requires less input in order to manage pests properly. Below is a description of each seasonal application in the Simply Safer Organic-Based Program.
During each visit we will leave you a detailed analysis of your lawn, identifying problem areas. Our highly trained technicians will spot-treat for weeds and insects when appropriate, taking into account lawn and weather conditions.
Another Happy Customer...Our front yard was basically a crabgrass farm last August when they started treating it. By late October, as the season ended, we had a very attractive lawn. This spring, things came up beautifully. They are very responsive to inquiries. Very satisfied with the service and with the pricing.-Neil B. in Providence, RI
EARLY SPRING DURATION FERTILIZER
Duration CR is a controlled-release fertilizer that releases nutrients gradually throughout the plant's growth cycle, resulting in precise feeding. This makes for a stronger lawn with increased natural pest and disease resistance. Duration CR provides a deep green color and helps reduce nutrient spikes and lulls which are common with older, cheaper fertilizer technology used in DIY products and those used by our competitors.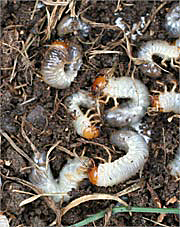 GUARANTEED GRUB PROOFING
This timed-application of an exciting product called Acelepryn is guaranteed to be effective to prevent grub damage to your lawn. We're always looking for the safest, greenest products available. Acelepryn has been classified as EPA-Reduced Risk, and also has a low impact on non-target organisms such as bees, birds, fish and mammals, and has the lowest water solubility of any white grub control product.
LATE SPRING
During this visit we inspect the lawn for fertility level, weeds, and any insect activity. We treat the lawn as needed focussing on controlling weeds and crabgrass thoroughly.
SUMMER
During this visit we inspect the lawn for fertility level, weeds, and any insect activity. We treat the lawn as needed focussing on controlling weeds and crabgrass thoroughly.
LATE SUMMER / EARLY FALL
This balanced organic-based fertilizer is applied in August or early September to help the lawn recover from the stresses of summer and begin the fall growth season strong. This is also the perfect time of year to schedule your Aeration & Overseeding to repair or improve your lawn, this fertilizer will help the seed to establish.
WINTERIZER
Our winterizer promotes continued deep root growth throughout the fall and provides the needed nutrients for the grass to store over winter for a quicker spring green-up next year.
LIMESTONE (pH Control)
Desired turf grasses thrive when the soil pH is near neutral while most weeds & crabgrass prefer soil that is acidic. The addition of Solu-Cal limestone to the soil raises the pH countering the acidic effect of annual rainfall and the effects from surrounding acidic trees. If the soil remains acidic the grass will not absorb nutrients optimally and it will thin out allowing weeds & crabgrass to thrive and take over. All lawns need to be limed properly annually, some lawns require multiple applications each year.
View information on some of the Safe Lawn Care Products we use.

Read Andy F.'s review of Simply Safer Premium Lawn Care on Yelp