Original Organic-Based Lawn Fertilization Program
Pet, Kid, and Environmentally Friendly Lawn Care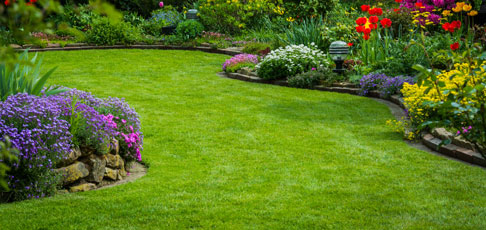 Optimal Results with 90% Less Pesticides
Simply Safer's Organic-Based Program keeps your lawn looking beautiful and green. It provides optimal control of weeds and insects while reducing pesticide use by 90%, by using the best fertilizers and pH controls and using the safest, most effective control products possible. Our lawns grow in greener and healthier and have noticeably fewer weeds and crabgrass than those treated by our competitors or with DIY-products.
Another Happy Customer...Our front yard was basically a crabgrass farm last August when they started treating it. By late October, as the season ended, we had a very attractive lawn. This spring, things came up beautifully. They are very responsive to inquiries. Very satisfied with the service and with the pricing.-Neil B. in Providence, RI
Early Spring Fertilization
This applicaton of our high-quality fertlizer starts your lawn growing greener and stronger, and also controls weeds and crabgrass.
Early Spring Limestone with Humic
Enhanced Limestone with Humic reduces soil acidity and makes more nutrients available, in your soil. This strengthens your turf while naturally weakening and reducing weeds and crabgrass.
Late Spring Fertilization
This fertlizaton helps your lawn strengthen to withstand the upcoming summer heat stresses, grow greener and more lush, and this visit provides weed and crabgrass control.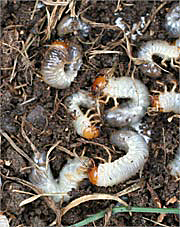 Guaranteed Grub Proofing with Acelepryn
Grubs cause extensive damage, if not prevented. We proudly use Acelepryn, as it is guaranteed to be effectve at preventng grub damage and is classified as EPA-Reduced Risk, it's safe for your family, pets, bees, birds, and fish.
Summer Lawn Fertilization
A gentle fertlizaton maintains turf health during the summer stress and we focus on thorough control of weeds and crabgrass.
Summer Limestone with Humic
Enhanced Limestone with Humic, applied in summer, improves turf health, reduces drought and disease stress, and reduces weeds and crabgrass, naturally.
Late Summer / Early Fall Fertilization
This premium fertlizer is applied to help the lawn recover from summer heat and humidity stresses. Your lawn will begin the fall growth season strong, greening up and developing deeper, stronger roots.
Winterizer
Our winterizer promotes continued repair and deeper root-growth throughout fall. Your grass will also take in and store nutrients for a quicker spring green-up.
Fall Limestone with Humic
Enhanced Limestone with Humic controls soil pH and make nutrients more readily available, this will strengthen your turf, encourage deeper root-growth, and reduce thinning-out during winter.
View information on some of the Safe Lawn Care Products we use.