Premium Lawn Care Programs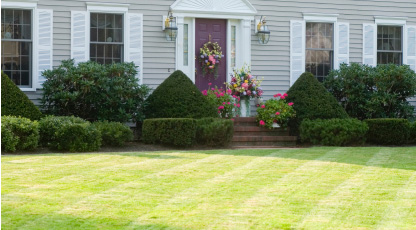 We have developed two lawn care programs that deliver excellent results based on what your needs are. Each of our programs have been built based upon our company's mission statement: To provide our customers the ability to enjoy all of the benefits of a nice green healthy lawn AND to provide this without jeopardizing your family's health or the health of our local environment.
Both of our lawn fertilization programs provide excellent results. Our Original Organic-Based Fertilization Program provides optimal weed and insect control and nice green color while reducing pesticide use by up to 90%. Our Organic Fertilization Program also produces a nice green color and protects against insect damage and reduces weeds, the results are not quite as controlled but it is the safest lawn care program available.
The two lawn care programs will see even better results by aerating and overseeding in the fall. This service will repair summer damage from heat and drought while thickening the lawn to help choke out weeds for the next season. The very best organic weed control is a thick and healthy lawn.
Pesticide Exposure
Over the past 60+ years it seems our culture has excessively used pesticides in and around everything we do, eat, and come in contact with. Over the past 10 years especially many of us have begun to rethink this. Many of us have begun to eat organic produce when possible and stopped using certain chemicals in and around our homes. We feel this has been a very important switch, our physiology is very similar to the "pests" that the pesticides are designed to kill. It is our mindset that harmful chemicals should be reduced or eliminated wherever possible. We do our best to search out and implement the use of the safest products available and continue to switch to new and safer alternatives as information becomes available, and to always provide our customers with a plan to completely eliminate pesticides on their property by offering our:

Organic Lawn Fertilization Program
Organic Mosquito & Tick Control Program

and other safe alternatives...