Organic Weed Control
We've found an Organic option for controlling weeds in your lawn that is very effective at killing dozens of weeds including dandelions, clover, plantain, thistle, chickweed, and many others. We have been amazed by the effectiveness and quick results and are very pleased to assure you that it does not harm the grass at all. It is a product that is completely safe for your family, pets, and the environment. Fiesta Weed Killer is a liquid Iron product that we can apply as a blanket across your whole lawn or as a spot treatment. The weeds die within hours of application.
As with many 100% organic programs weed control can be difficult. There are many steps we take to help control weeds organically like providing good organic fertilizers, Solucal limestone to help correct the pH, and aerating and overseeding each fall to thicken up the lawn. Fiesta Weed Killer is now another useful tool we have to help eliminate weeds organically.
Most lawns can be spot treated while others that have a more serious weed problem will need to be blanketed. The two best times of year to have this applied is May/June and September.
Call us today to schedule this application for your lawn as this new service is understandably in very high demand.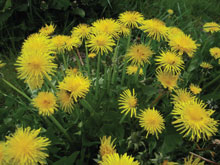 Before Fiesta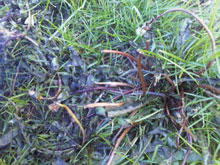 2 Days After Treatment